Alaska Road Map
---
The scalable Alaska map on this page shows the state's major roads and highways as well as its counties and cities, including Juneau, Alaska's capital city, and Anchorage, its most populous city.
Curved, Paved Road in High Alaska Mountains
Alaska Map Navigation
To display the map in full-screen mode, click or touch the full screen button. To zoom in on the Alaska state road map, click or touch the plus (+) button; to zoom out, click or touch the minus (-) button. To scroll or pan the zoomed-in map, either (1) use the scroll bars or (2) simply swipe or drag the map in any direction. (The scrolling or panning method you use will depend on your device and browser capabilities.) At any time, you can display the entire Alaska road map in a new window or print this page, including the visible portion of the map.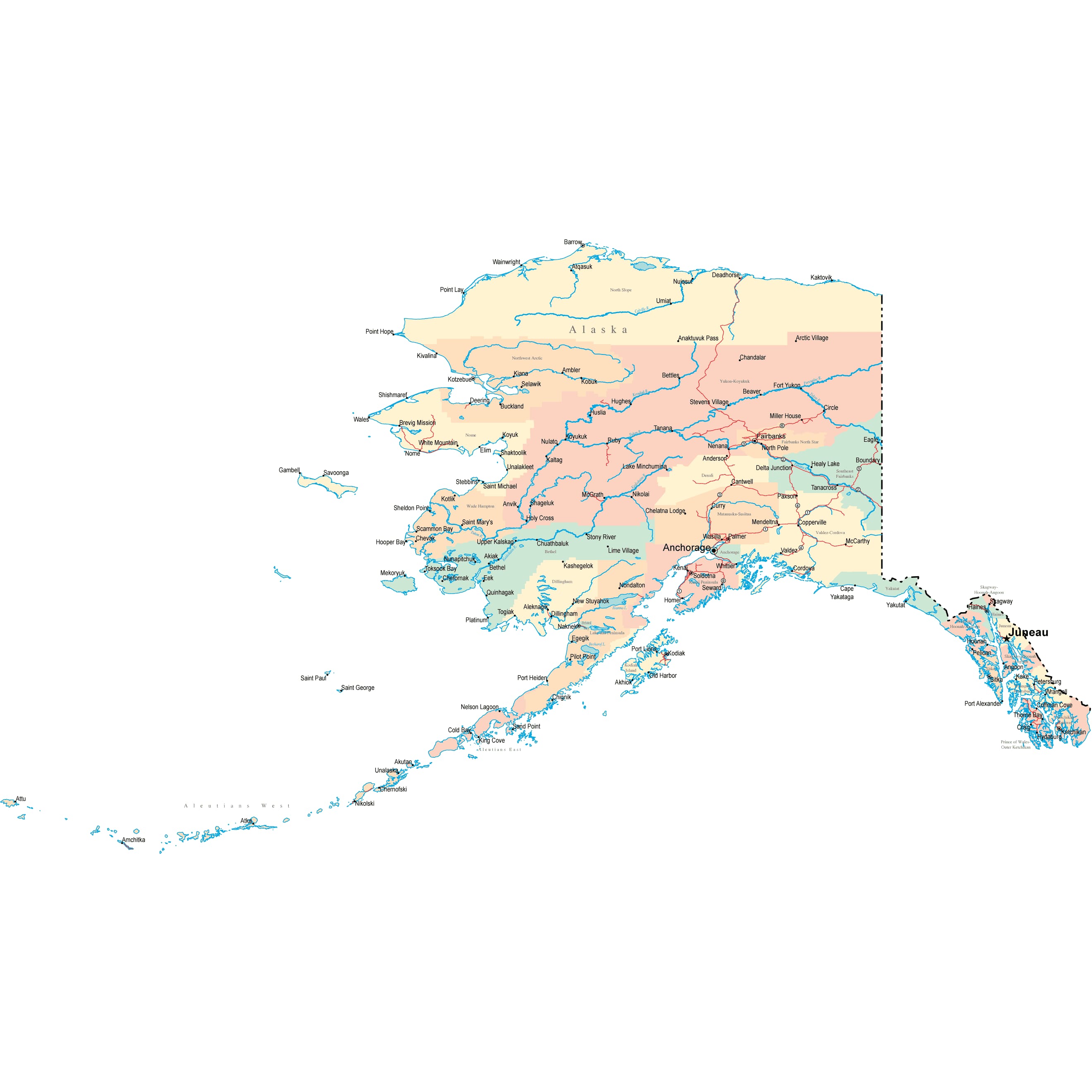 The following Map Legend and Scale of Miles apply to the road map on this page, at its largest displayed scale.
Alaska Map Legend
Alaska Map Scale Of Miles
Alaska Interstate Highways
Alaska's Interstate Highways, numbered A-1, A-2, A-3, and A-4, do not meet federal Interstate Highway System standards, but they are funded using the Interstate Highway System formula.
A-1 traverses southeastern Alaska from the Kenai Peninsula at Homer to Tok, where it connects with A-2, the Alaska Highway.
A-2 traverses eastern Alaska from Fairbanks to the Canadian border near Beaver Creek, Yukon.
A-3 traverses south-central Alaska between Anchorage and Fairbanks.
A-4 connects the Alaska Highway at Delta Junction with Valdez, near the Gulf of Alaska.
Alaska Scenic Routes
Completed in 1971, the George C. Parks Highway runs for 360 miles from Fairbanks to Anchorage and passes through much breathtaking rugged beauty along the way. One of the many points of interest but arguably the most notable along this trip is Denali State Park, a 6-million acre nature preserve that is home to grizzly bears, wolves, moose, caribou, and 158 species of birds. Visitors can also catch a glimpse of Mt. McKinley from the park road. More information about scenic roads in Alaska is available on the America's Byways: Alaska web page.
Alaska Road Travel Resources
The Alaska Marine Highway System and the Alaska Highway provide access to Alaska from the lower 48 states and western Canada.
For more information about Alaska's roads and transportation infrastructure, visit the Alaska Department of Transportation website. For Alaska road traffic conditions, visit the Federal Highway Administration's Alaska Traffic Information page.
---
Copyright © 2005-2023 State-Maps.org. All rights reserved.
Alaska-Map.org is a State Maps reference source.

Alaska Road Map
Alaska Travel Map - AK Highway Map